How to register for NYCML'19 Workshops Using Whova
NYCML'19 Workshops will take place across three scheduled sessions. Each attendee can register for 2 workshops total; this is to save your additional time to view our 100+ project Demo Expo and Startup Pavilion. You will register for workshops via the Whova mobile application, where you can easily format your agenda for the afternoon. Whova is highly intuitive and simple. Once you have access to Whova, please feel free to pick and choose your workshop sessions at will. NYC Media Lab will notify you when new sessions are added to the program.
Please download the Whova app on your smartphone, and sign up with the email address you used to register for the event. Once you have logged in and built your profile, you can begin customizing your workshop agenda.
Whova also offers other great features, including the ability to: view session details, room locations, timings, and FAQ's; interact and network with other guests using chat features; organize meetups; browse the full list of speakers, Demo Expo exhibitors, and startups with table numbers and locations.
step 2: navigate to the nycml'19 agenda via your whova homepage
Whova allows you to easily customize and personalize your NYCML'19 agenda. Select "Agenda" at the bottom of the app to browse the full program.
Clicking on Additional Resources will show you a lot of other helpful information.
Step 3: Browse the list of workshops to make your selections
From the Agenda view, you can scroll through the list of available NYCML'19 workshops before you make your decision. Click on the sessions to expand more information, including the button to enroll in that session.
Whova will include the full workshop description, topic areas, speaker details, session time, room number, building location and other information for each session.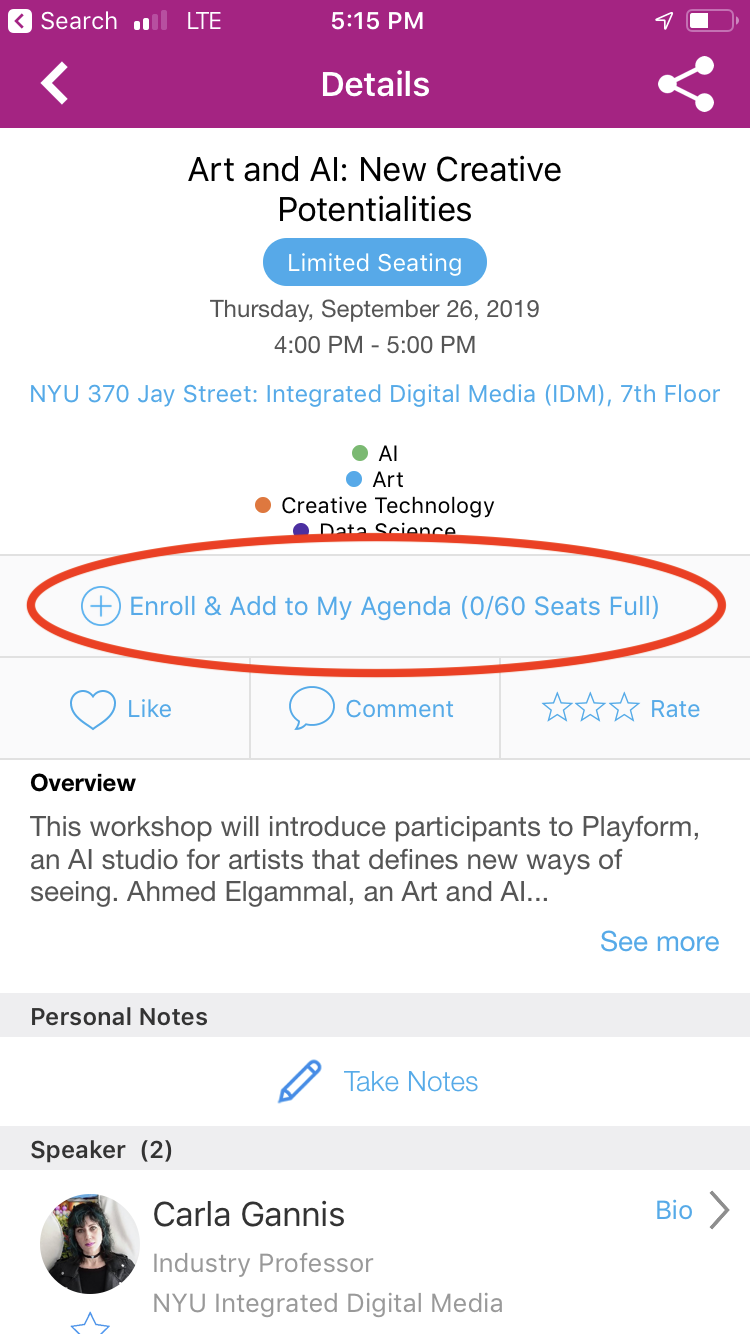 Once you've clicked on the workshop you'd like to attend, it's time to get yourself enrolled. You can easily do this by clicking "Enroll and Add to My Agenda".
Using Whova gives you a lot of freedom. Your workshop registration is not final. You can easily deregister if you become no longer available, or if you change your mind and would like to attend another session instead.
Following the workshop, you can also use the "Rate" 4-star window to leave a rating of the session.
Step 5: view your agenda for the day
Once you've signed up for your workshops, you can view your personalized agenda. This will show you all of the sessions you're enrolled in, and at what time.
Whova will also help you remember to attend. When you register for your workshop, you can opt to send yourself a reminder before the session begins.